DATE
REASON
Friday April 2nd to Monday April 5th 2021
Easter Holiday – school closed
Friday April 9th 2021
Ped. Day - no school students
EMSB Parents Committee Virtual Conference April 18

Registration is open for EMSB Parents Committee Virtual Conference April 18
This year, the conference is being held online.
Keynote speech by Dr. Earl Rubin, Director of The Division of Pediatric Infectious Diseases at the Montreal Children's Hospital: Resilience through the COVID Pandemic. Our panel of experts will discuss the same topic and will include:
Dr Debbie Schwarcz, general practitioner
Aaron Derfel Montreal Gazette health reporter
Once you register, we will send instructions on how to connect to the conference.
Register Now!
---
A reminder to assess your health or your child's health each morning

Public Health authorities ask that you assess your health each morning. This on-line tool will help you determine if you can report to school/work or should stay home and seek further assessment for COVID-19.
Assessment Tool for Adults & Staff
Important COVID-19 related information for our parents/guardians
For more information on COVID-19 FAQ's please visit EMSB website
Instructions for People Who Have Been in Contact with a Confirmed Case of COVID-19
Tool for the Family - Testing and Preventive isolation
Can a student attend school in the following situations?
To all parents: For a pleasant spring break and safe return to school
EMSB sees 2021 as pivotal year for marking Black History Month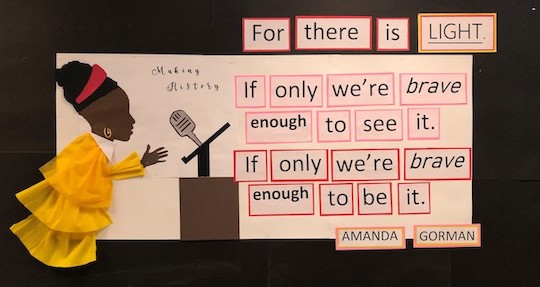 Bulletin board created by Linda Luca, Spiritual and Community Animator for Merton Elementary School.
Given the many high-profile acts of racial violence in 2020, Black History Month activities scheduled at the English Montreal School Board (EMSB) for February will take on even more significance.
At a Council of Commissioners meeting in December 2020, the EMSB adopted a formal resolution to formally recognize Black History Month.

APPLICATIONS FOR HIGH SCHOOL - If you are interested in applying to M.I.N.D. Visit How do I Apply or give us a call at 514-842-0792 or email us at kscott@emsb.qc.ca for information.
Please do not come to the school without an appointment.